A Lead TA assists with training and mentorship for novice TAs at the departmental level (being a Lead TA is NOT the same as a Head TA for a single large course). The Lead TA Institute (LTAI) is held annually in mid-late August and is specifically for graduate students who have secured a position as an academic department's Lead TA for the coming year. Registration opens in early Summer each year.
The focus of the LTAI is helping Lead TAs plan and develop their department's TA Training program, orientation, workshops, and practical materials. The goals of the institute are encapsulated in the following list.
Identify essential elements of TA Training for novice TAs.

Share resources, ideas, and plans for TA training across departments.

Increase Lead TAs' knowledge of University policies relevant to TAs and their students.

Practice strategies that encourage student-centered teaching and active learning.

Improve each Lead TA's ability to mentor TAs and manage conflict through effective communication and consulting practices.

Cultivate a community of Lead TAs with whom to improve TA training programs. 

Outline and refine plans for TA Training in each Lead TA's department.
Image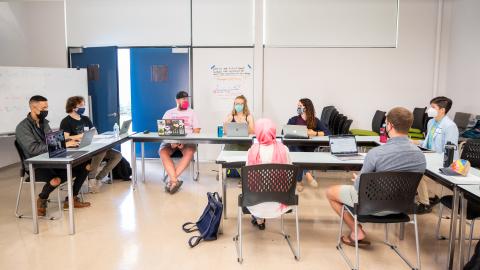 The institute has both online and in-person elements, including a few hours of required pre-institute work. The total time commitment of the Lead TA Institute is approximately 12 hours in mid-late August.
 
Institute Stipend (tentative depending on funding)
If funding is available, LTAI participants can receive $225 for completing the required preparations and independent activities, as well as participating in all in-person meetings. Completion of LTAI satisfies Requirement #2 of the Certificate in College and University Teaching program.

2022 LTAI Details and Registration
The 2022 Lead TA Institute (LTAI) will be held from August 12th - August 22th in a hybrid format consisting of both synchronous (on-campus and via Zoom) and asynchronous activities. We invite departmental Lead TAs to register for this interactive Institute by the end of July.
On-campus synchronous sessions:
Friday, 8/12 from 10am-12pm (opening in-person workshop)
Monday, 8/22, from 3-5pm (closing in-person workshop)
Asynchronous activities will take place between the open and closing dates; more information will be sent to registered participants at the beginning of August.