UCSB's Evaluation System for Courses and Instruction (ESCI) provides instructors and TAs with feedback about students' experiences in courses. Students fill out online surveys prior to finals (weeks 9 and 10) for courses that departments have requested to be evaluated.
Instructional Development supports instructors, departments and the UCSB campus in developing ESCI policies and practices that promote holistic evaluation of teaching. ESCI is administered by Instructional Development (ID), which
Supports departments and individual instructors in creating surveys that will provide useful, actionable feedback: ESCI is highly customizable!

Coordinates with departments (link) to ensure surveys are correctly requested for courses.

Manages the ESCI Online web interface, automatic email reminders to students and instructors, FAQs, and help requests.

Provides instructors (link) with information on how to increase response rates and get high quality feedback.

Prepares ESCI survey reports (link). Please note that End of Quarter Reports for individual instructors and TAs are sent to departmental ESCI contacts for distribution after final grades have been submitted. ID also provides information on how to interpret and act on ESCI results.

Five-year instructor summary reports and secondary analysis can be requested directly from the ESCI Office.
How are ESCI student evaluations of teaching used?
ESCI makes the process of gathering and summarizing student course feedback easy for instructors and departments, while providing flexibility to create customized surveys. Instructors can use ESCI survey reports to reflect on and inform their teaching. Additionally, Red Binder section 1-31 requires that summary information for the two campus-wide ESCI questions, "Item A" (overall evaluation of teaching) and "Item B" (overall evaluation of the course) be included in personnel cases, along with one other source of teaching evidence.
Note that while the term "evaluation" was originally included in the name of the service at its creation in the 1970s, the ESCI system itself does not make evaluative judgments - it simply reports the students' responses. An extensive body of research has documented systematic bias in student evaluations of teaching against females and people of color (link). To minimize this potential harm, ESCI data should be used in conjunction with other sources of feedback.
Image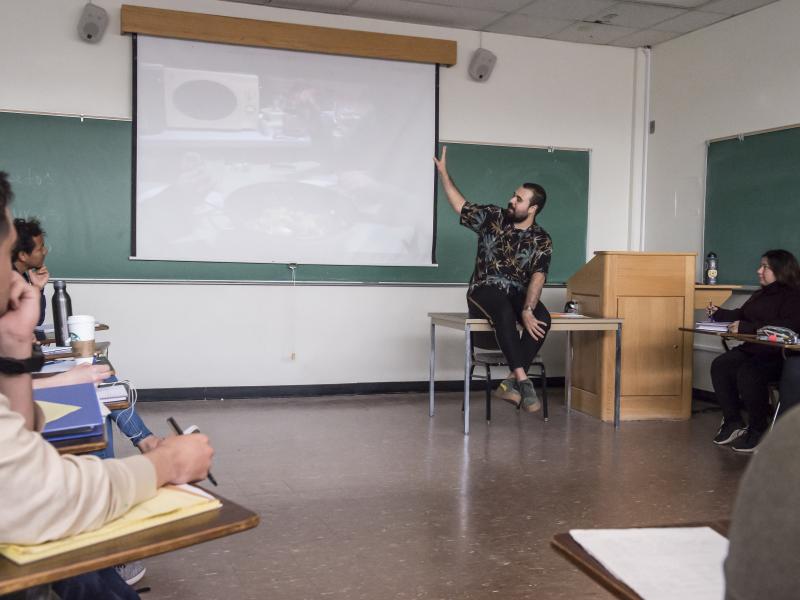 ---
Guiding Principles of Course Evaluation Data and Reports
Instructional Development is responsible for the collection, reporting, and retention of course evaluation data, which is confidential and sensitive. We abide by the following principles to maintain confidentiality and data integrity
Faculty members own their individual ESCI data. ESCI data are collected as an aid to individual faculty members for use as summative feedback on their courses and instruction. As such, individual ESCI results are the property of the faculty member. Furthermore, ESCI results for individual faculty members are not a matter of public record. The faculty members must include their own ESCI results for individual courses in personnel review materials. Faculty members may request reprints of their own ESCI results for previous courses, and they may request aggregate historical summaries of their own ESCI results for previous quarters or years. Instructional Development will only provide ESCI reports and summaries to Department Chairs and administrative personnel upon request by, or with consent from, the Faculty member, unless it is for a personnel matter affecting that faculty member.
Aggregated ESCI reports will always seek to preserve the confidentiality of individual faculty members. Aggregated ESCI results will be provided to departments at the written request of the Department Chair. Unless more detail is specifically requested by the department chair, aggregated results will always be compiled so as to protect the anonymity of individual faculty members. These aggregated results may be used by departments for the purposes of curricular evaluation and planning; or as evidence of quality teaching for program review. Instructional Development staff are available to provide assistance in the design of aggregated ESCI results to meet the needs of department chairs and their departments.
Departments may determine their own internal policies regarding the use of ESCI results. Departments may choose to use either individual or aggregated ESCI reports for a variety of programmatic or personnel purposes at the department's discretion. However, departments are strongly urged to adhere to Principles 1 and 2 regarding the ownership of ESCI results and the need for confidentiality of those results. Further guidance on the use and interpretation of ESCI results is available from Instructional Development staff.