Campbell Hall houses the following equipment for classes and performances, however the list of equipment below is not exhaustive. Please contact us if you need other equipment or have questions about hosting your event in Campbell Hall.
 QSC Touchmix-16 (digital) 20 total inputs: (12) XLR, (4) XLR/TRS combo, (2) stereo ¼" TRS; all channels 4-band parametric EQ with hi/lo shelving, variable 24db/octave HPF and LPF, gate, compressor.

Wireless remote control with QSC Apps for iPhone and iPad.

Located in the control booth at the rear of Campbell Hall, and used primarily for classroom lectures and small public events.
Image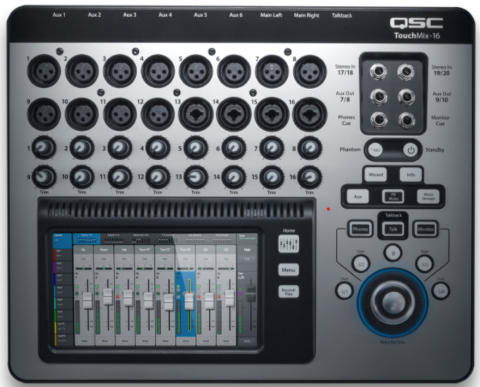 Midas M32 (digital)-40 simultaneous input channels. 

25 time-aligned and phase-coherent mix buses. 

8 stereo signal processing effects engines. 

Wireless remote control with MIDAS Apps for iPhone and iPad.

Set-up at the rear of the auditorium with access to stage via a 48 x 10 Whirlwind analog snake
Image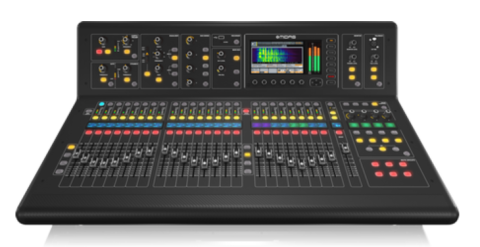 There are (8) XLR connections built into the stage that terminate in the control booth. These are used for the most basic lectures and events.
For complex events there is a 48x10 Whirlwind system terminating in a MASS Connector at the back of the Hall for a FOH Desk, parallel input boxes stage left and right, and a MASS connected split stage left for a Monitor Desk. XLR breakouts are available for each MASS Connection.
Projector
(1) Panasonic PT- MZ16KL (housed FOH in upstairs booth approx 16ft above stage level; 105ft throw distance to screen)
16000 lumens
16:9 (WUXGA) native
HDMI, DVI, HD-SDI
Barco PDS-902-3G Presentation switcher
AUX connections over Cat5e: three (3) runs Cat5e each from booth to Stage Left and Stage Right for various AV needs
Projection Screen
42ft x 14.75ft (visible) Stewart screen with perforations. Top and bottom masking fixed. Adjustable side masking via full-stage traveler immediately downstage of the screen.
Macbook Pro with QLab4 Video License